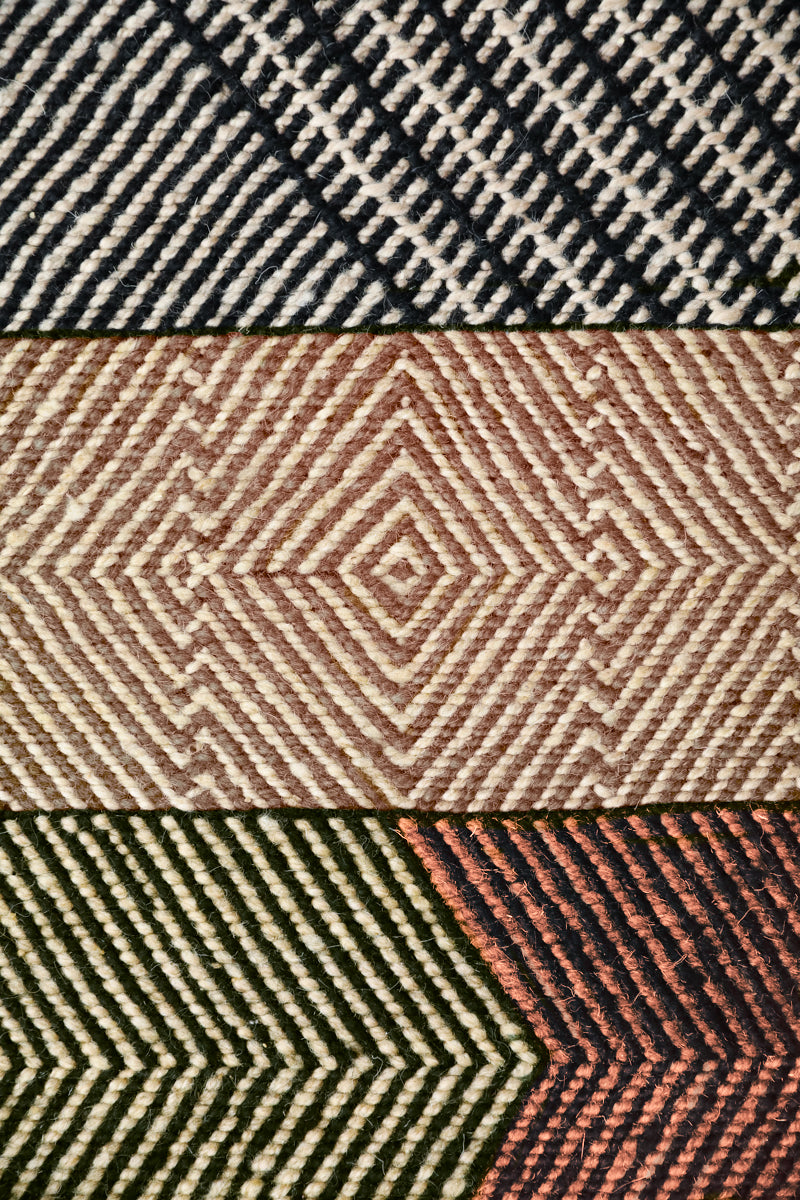 Striped Chadoui Zanafi - Dusty Rose + Coral - Flatweave Moroccan Rug (Made-to-order)
Custom designed by OUIVE rugs this is a very unique design of a Moroccan Zanafi style flat-weave wool area rug. This style of rug is typically produced in 2 colors only, but this piece is unique it than it not only combines two-tone Dusty Rose and Coral with light tan, black and white - it also illustrates a variety of pattern designs with in one rug. Very atypical and modern look for this style of rug, also known as Chadoui which is the Amazigh (Berber) name for this style of rug. 
Also Available in: Forrest, Indigo, Gold
Need a rug pad? Email us to add a custom cut rug pad to perfectly fit your new rug with options suitable for all flooring materials.
- Type of rug: Fine Hand-woven Flatweave. Custom made-to-order.
-Finishings: Braided fringe top and bottom
-Type of rug: Custom designed Zanafi / Chadoui Moroccan kilim
-Origin: Taznakht, Morocco
-Materials: 100% Hand-spun Wool
- Lead time: 6-8 weeks, large rugs over 10' long 10-12 weeks
Our made-to-order rugs are hand-made from small batches of hand-dyed yarn, therefore some slight variations in color and size can occur. Measurements do not include tassels/fringe. Due to the handmade nature of our rugs sizes can vary up to 4" in length or width. Please feel free to reach out to us with any questions before placing your order - we are happy to help!
Free domestic U.S. shipping on all rugs over $500. Discounted international shipping. Please visit our Shipping & Returns page for more information.
All made-to-order and custom rugs are FINAL SALE. Please reach out to us with any questions before placing your order.
To cancel your order please notify us within 24 hours of placing your order for a full refund.
Our rugs are handmade in Morocco from 100% wool each taking several weeks to months to create. We partner directly with talented Amazigh (Berber) weavers supplying them with whatever they need and ensure they are paid fairly. This cuts out any reliance on middle-men merchants passing through their villages offering to buy rugs at too low cost to then reselling in the major cities across Morocco. Most of the women we work with weave at home while others work in local collectives with other weavers. It is a beautiful community of sisterhood and shared experience gathered around craft. By purchasing a made-to-order rug from us you are supporting fair pay and keeping the traditions of hand-making rugs alive as a viable way to earn a living for future generations. 
Please visit our FAQ page for additional information.
Share